Welcome to Houston Pi Phi
The Houston Alumnae Club was chartered in 1921. Much like the city of Houston, the Pi Phi Alumnae Club is made up of a diverse group of women of all ages and from colleges all over the country. There are two main groups in the club: the senior and the junior group, but many different ways to get connected in an interest group. We hope you will reach out to the group(s) that fits into your life!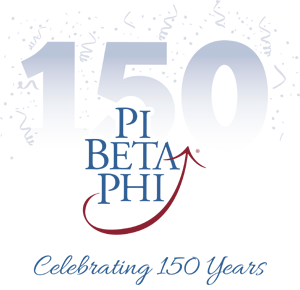 In 2017, Pi Beta Phi celebrates 150 years of sisterhood. Over the last two years, Pi Phis from ocean to ocean have celebrated by attending biennial events and the recent 2017 convention in St. Louis, and participating in the 150 ways to celebrate! We continue to commemorate this exciting time for our fraternity with festivities and many opportunities to get involved.
---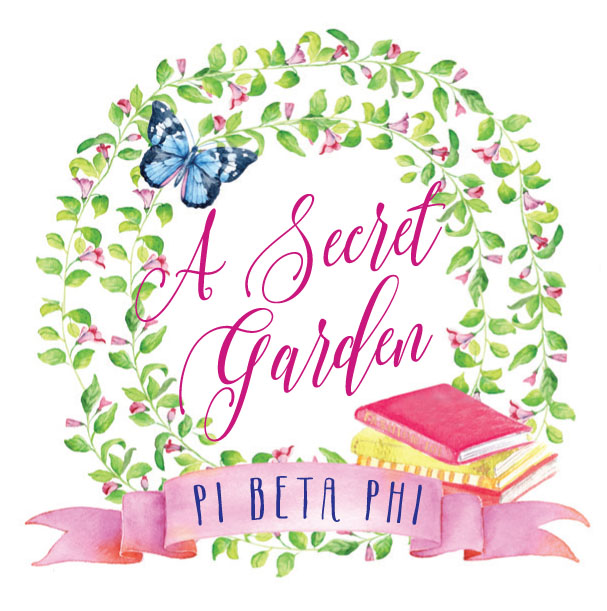 Saturday, March 24, 2018
11:30 a.m.
---
Pi Beta Phi — It's for Fun, It's for Life!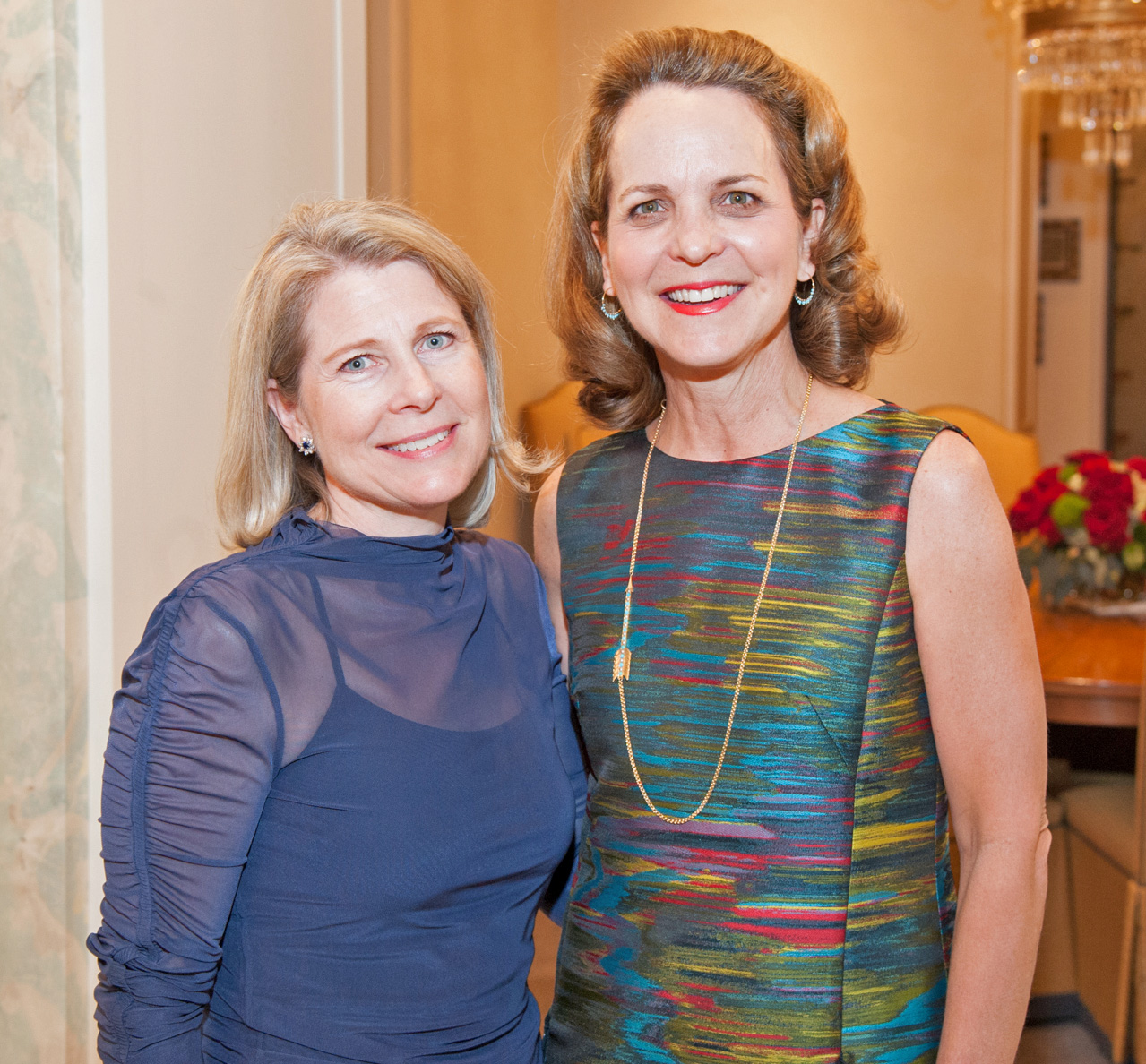 Susie Bailey McGee and Gail Wolf Orr
Co-Presidents, Pi Beta Phi Houston Alumnae Club
Please pay your dues to join us in our exciting events this year.
The 2017-2018 Directory has been printed and mailed. However, if you join now, you can have access to the directory online.



---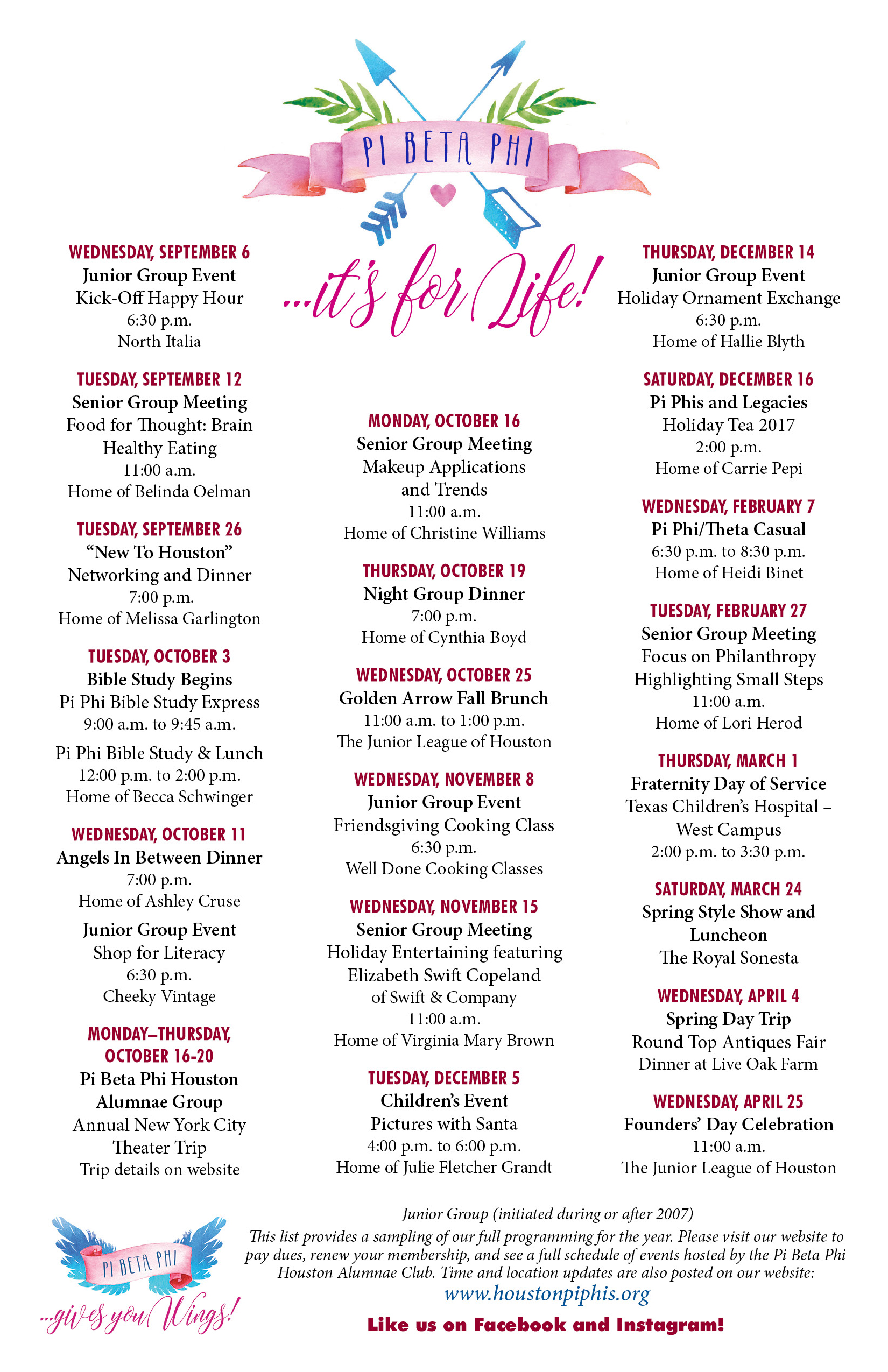 Upcoming Events
Click on the image at right to view a printable copy of all our upcoming events!
Pictures with Santa
Saturday, December 16, 2017, 4:00-6:00 p.m.

---
Hurricane Harvey News
We sincerely hope that you, your family, and friends are safe under these difficult weather conditions. Our thoughts and prayers go out to everyone affected by Hurricane Harvey. Houston is an amazing community and we know that the people of our city will come together to help one another and rebuild their lives.
Individuals from the Dallas Alumnae Club have generously donated approximately $3,000 in gift cards to Houston Pi Phis who are victims of Hurricane Harvey. We are so grateful to them for their generosity!
If you would like to help a Houston Pi Phi who has experienced flooding or damage due to devastation from the storm, please consider bringing a gift card to one of our October events. Any amount that you can give will be appreciated!
Thank you to our Hurricane Harvey Relief Committee (Chairman: Melissa Garlington, Members: Heidi Binet, Martha Charbonnet, Mary Margaret Greer, and Katy Smith) for coordinating our club's efforts to help those Pi Phis affected. Later next month, the committee will distribute the gift cards to Houston Pi Phi Harvey victims. If you or a Pi Phi friend has been affected and would like to be added to our list, please email Melissa at [email protected]. You can also send your gift cards to Melissa Garlington at 6000 Burgoyne, Houston, Texas 77057.
Additionally, Emma Harper Turner Grants are available to help Pi Phis through the financial challenges created by job loss, health crisis, natural disaster or other unexpected life circumstance. Funds can be applied for by going to the Pi Beta Phi website and filling out the application.
Contributions to the fund can also be made on the website or mailed into Pi Beta Phi Headquarters.
Pi Phi Love,
Susie and Gail
Message From Alumnae Region 4
Click here
to read the Alumnae Region 4 E-Blast to those in the area affected by Hurricane Harvey.
---
Houston Pi Beta Phi Alumnae and Foundation – Supporting Literacy in Houston, TX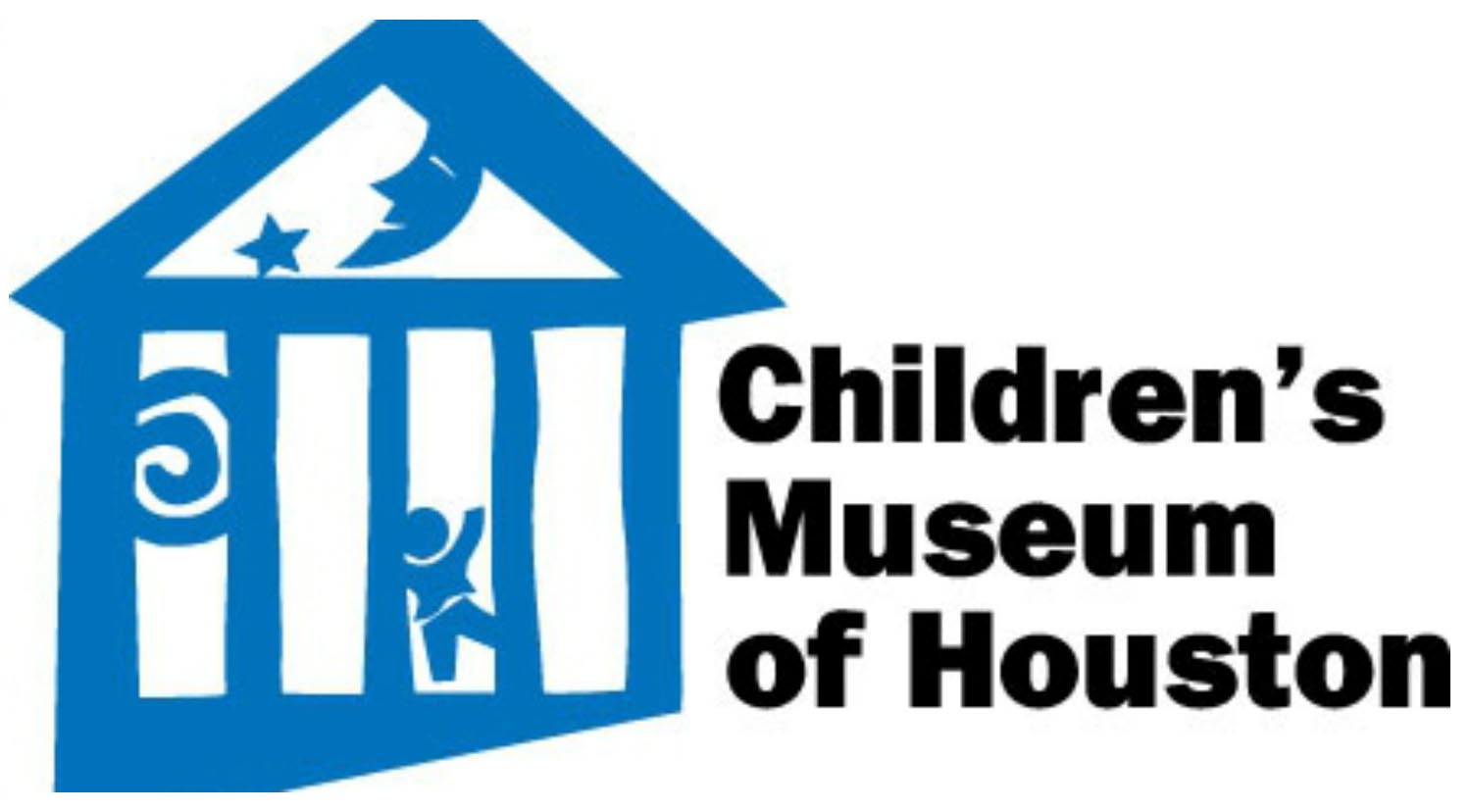 Children's Museum of Houston
Free Family Night Bilingual Story Times
Thursday nights at 5:00 p.m., 6:00 p.m., and 7:00 p.m. in the Parent Resource Library.
Story time is funded by the Houston Pi Beta Phi Foundation and each family receives a free book, along with participating in sing-alongs and craft activities.
2017-18 Senior Alumnae Club Executive Officers
Co-Presidents
Susie McGee
Gail Orr
Co-First Vice Presidents
Sarah Kay "Katy" Weaver Smith
Alicia Middleton Stephens
Second Vice President
Melissa DeGrand
Recording Secretary
Margaretta Snell
Corresponding Secretary
Helen Schmidt
Vice President of Finance
Martha Charbonnet
Treasurer
Leslie Fletcher Mendenhall
Parliamentarian
Ann Johnson
Recruitment
Melissa Garlington
Advisors
Tricia Lacy Ayers
Lori Webb Milner
---
Pi Phi Events
Get the latest information on all our upcoming events on our calendar. General meetings, board meetings, interest-group events, committee meetings, and foundation happenings--it's all there for you!
Alumnae Membership
If you are new to Houston and would like to learn more about joining our alumnae club, please visit our Join page.
Please pay your dues to join us in our exciting events this year. The 2017-18 Directory has been printed and mailed. However, if you join now, you can have access to the directory online.
Member login
Please log in above to access the members-only sections of the site. Any trouble? Email us.