Welcome to Pi Phi Houston
2021-22 Dues
The Houston Alumnae Club of Pi Beta Phi looks forward to a year of renewal and reunions in 2021-2022! Our local club will enthusiastically engage in educational, service, and social events, giving us the opportunities to embrace our sisterhood!

Service, sisterhood, and sincere friendships are the foundation to our Pi Phi Alumni Club in Houston. We are excited about the events that are being planned for 2021-2022 and hope you will join us as we reunite again! We will have at least seven events, with a Gala in 2022.

Please help make Houston the leading Pi Phi alumni club in the country! We will encourage club growth with dues structure options, philanthropy opportunities, and engaging events. Please click here to select your option of dues of sisterhood or à la carte.

We look forward to being reunited with you in person at all of our exciting sisterhood and special events beginning this fall!

Heidi Binet Aimee Verheeck
Texas Beta, 1985 Mississippi Beta, 1989

---
Fratty Friends is Back!
Click here
for more info.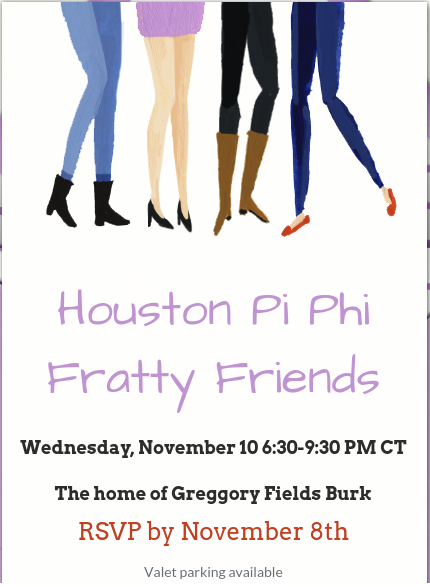 ---
2021-22 Calendar of Events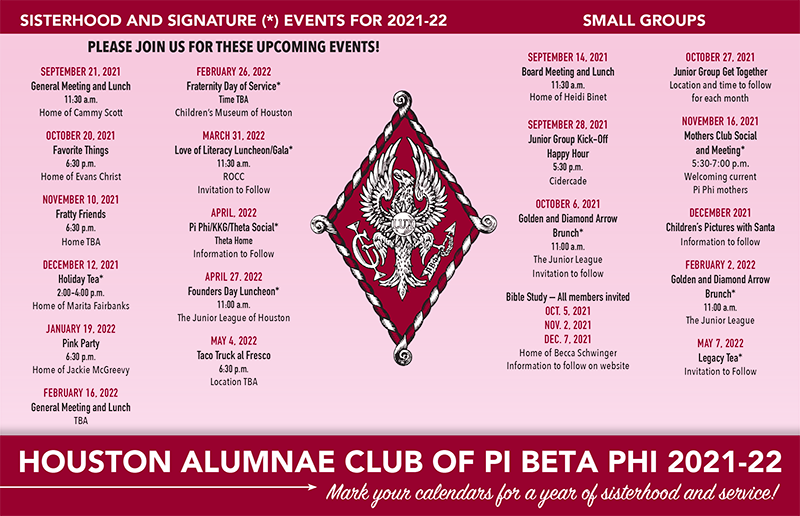 ---
2021-22 Board
Executive Officers
CO-PRESIDENTS
Heidi Binet (TX Beta)
Aimee Verheeck (MS Beta)
CO-FIRST VICE PRESIDENTS
Mary Chaffin (TX Alpha)
Leslie Loftis (TX Beta)
SECOND VICE PRESIDENT (JUNIOR GROUP)
Elizabeth Hibbler (GA Beta)
VICE PRSIDENT OF COMMUNICATIONS
Leslie Loftis (TX Beta)
VICE PRESIDENT OF OPERATIONS
Kristin Stallings (TX Alpha)
VICE PRESIDENT OF FINANCE
Julie Grandt (TX Gamma)
TREASURER
Adrienne Bash (CO Delta)
RECRUITMENT CHAIRMAN
Jennifer Carmichael (OK Alpha)
BOARD ADVISORS AND NOMINATING COMMITTEE CHAIRMEN
Melissa Knauth (TX Alpha)
Margaretta Snell (TX Beta)
---
Read the latest issue
of PBP National's
The Arrow
.
---
Pi Phi Events
Get the latest information on all our upcoming events on our calendar. General meetings, board meetings, interest-group events, committee meetings, and foundation happenings--it's all there for you!
Alumnae Membership
If you are new to Houston and would like to learn more about joining our alumnae club, please visit our Join page.
Please pay your dues to join us in our exciting events this year. Dues must be paid by Sept. 30 to be included in the printed directory.
Member login
Please log in above to access the members-only sections of the site. Any trouble? Email us.