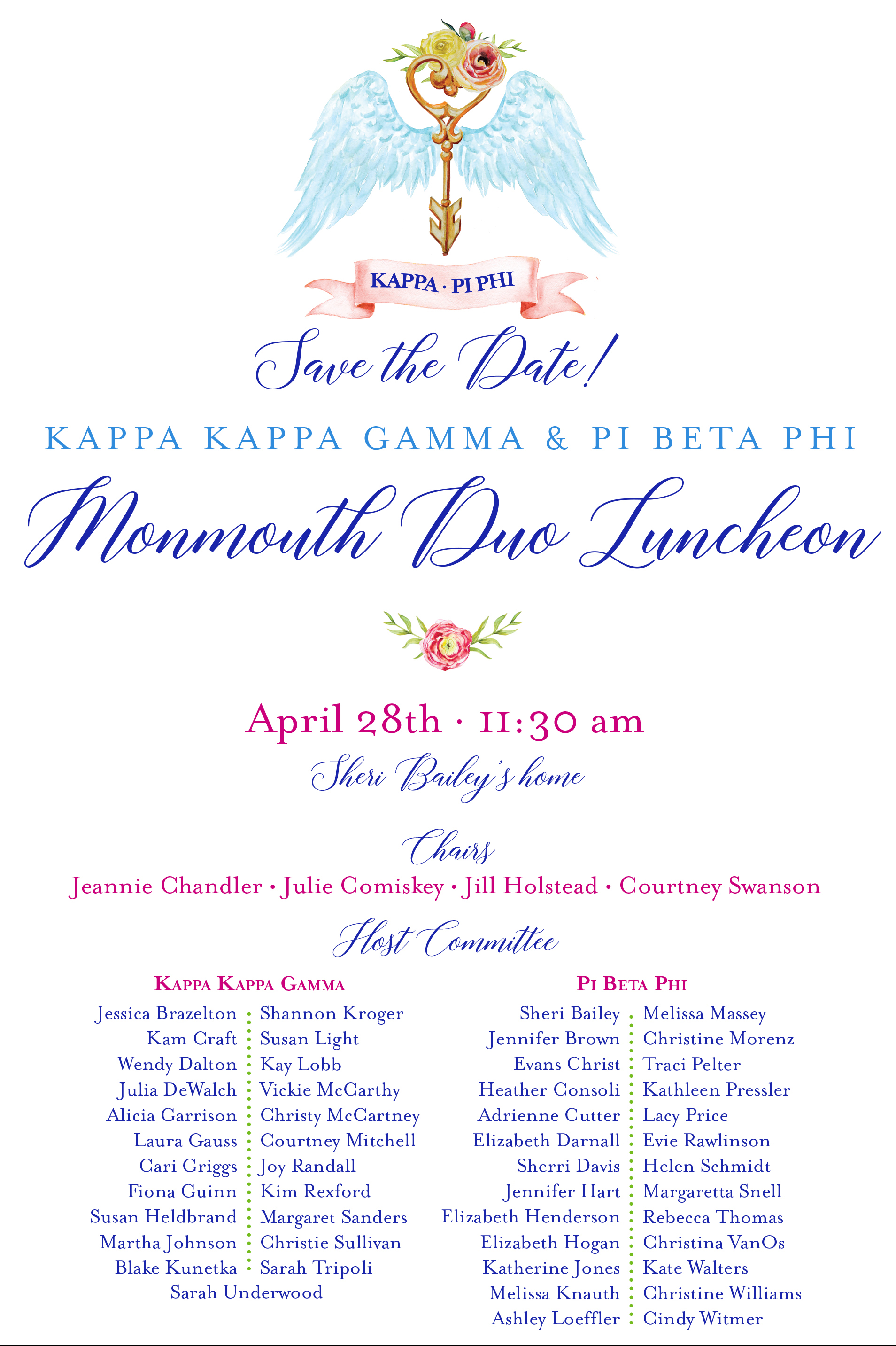 Chapter Support for Recruitment
Hi all! With fall recruitment right around the corner, we want to get a jump on our plans to push for our HTown girls!!! And we can't do it without your support!!! The funds that we collect for chapter support go directly to the chapter of your choice and dictate what we can afford to do to support our Houston girls during recruitment. Based on your donations, we can send cookies, snow cones, dinners, lunches, snacks, banners, flowers, styros, gumballs and more! The more we collect, the more we can do! So please consider donating any amount to your chapter, your daughter's chapter, or any chapter of your choice. You may send money by Venmo to @Houstonpipi and please include the name of the chapter in the details.
Thanks and PPL,
Jennifer Carmichael, Recruitment Chair and the entire recruitment team
---
Legacy Tea
Sunday, May 2 @ 2:00-4:00 p.m.
Junior and Senior legacies are invited to attend with their sister/mother/grandmothers. Image consultant and Pi Phi, Helen Perry will be giving insight on Presenting your Best Self! RSVP to
[email protected]
---
HAPA News
HAPA Scholarship Luncheon
Thursday, May 6 @ 10:00 a.m.-12:00 p.m.
at Memorial Church of Christ
Reservations required:
[email protected]
.
---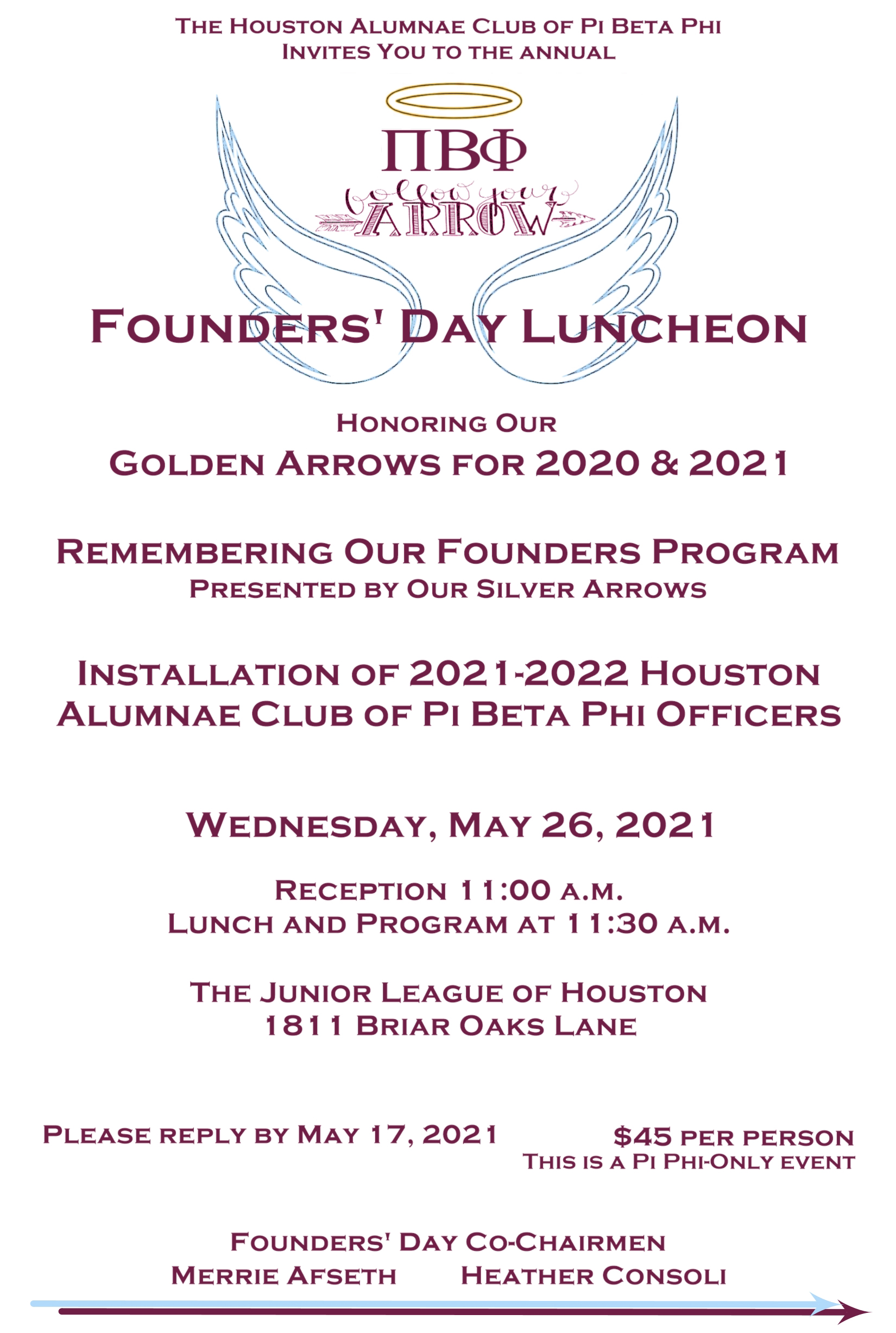 ---
National Legislation for Convention
This information was provided by National and is descriptive of the legislative process of our organization.
The Pi Beta Phi Constitution and Statutes document provides a procedural framework that is integral to a positive lifetime experience for Pi Beta Phi members. For each member, participation in the legislative process is a privilege and a responsibility. As a voting delegate, please review the legislative proposals to the Pi Beta Phi Constitution and Statutes here. This document is intended for members only — please do not forward. These proposals will be voted on at the 2021 Virtual Convention in June. There are 27 proposals, and each includes the rationale for the change.
Moving through this process, remember:
The proposals are numbered in the order they will be presented at convention. The legislative process will begin on Saturday morning. You are encouraged to think through these proposals before you arrive.
Only convention delegates may propose an amendment to an original proposal. While convention procedural rules state: "Amendments pertaining directly to original proposals must be discussed with the Legislative Committee prior to 12 p.m. CDT the day before the proposal will come to the convention floor," you are encouraged to submit an amendment to the committee prior to convention should you wish to amend an original proposal.
Pi Phi will host webinars for convention delegates to discuss these legislative proposals. You, or one of your alumnae club officers attending convention, should participate so you are prepared to consider legislation for your club.

Monday, April 5, 8-9:30 p.m. CDT
Tuesday, April 6, 7-8:30 p.m. CDT
The 2021-2023 slate will be posted to the Fraternity's website at noon CDT on March 29, 2021. If there are challengers to the slate, they will be posted at noon CDT on April 13, 2021. As a voting delegate, it is important you review the candidates before convention.
As a reminder, delegates will vote on legislation proposed by Grand Council which requires all chapters elect two new chapter officers: a Vice President Inclusion and a Director Community Inclusion. The new officers will be supported by an additional member of the Alumnae Advisory Committee (AAC). Grand Council will also propose revising the responsibilities of the current Grand Vice President Community Relations and renaming the role Grand Vice President Inclusion. This Grand Council member will oversee the Fraternity's existing Community Relations team as well as a new Specialty Director, the Director Diversity, Equity and Inclusion and nine new Specialists serving on Regional Teams, titled Inclusion Specialists. Learn more about the proposed leadership structure changes.
Additionally, Grand Council will propose legislation that will revise the Constitution and Statutes to remove any reference to special consideration for legacies, as well as propose legislation that will eliminate sponsorship as a requirement for membership, leading naturally to the elimination of the Alumnae Club Recruitment Information Committee (ACRIC), the Chapter Membership Selection Committee (CMSC), and the Recruitment Information Form (RIF). Learn more here.
We look forward to seeing you virtually in June!
In Pi Phi,
Suzanne Malone, Mississippi Beta
Legislative Committee Chair
Pi Beta Phi Fraternity
---
Local Recruitment Update
The upcoming vote to remove Legacy considerations and RIFs has caused immense confusion as these proposed changes will not be voted upon until June. In an effort to make sure our local girls have all required paperwork as they go through recruitment, we will continue to accept RIFs and Letters of Support as usual, until further notice. We intend to be prepared on all fronts to provide a successful recruitment experience for our Houston potential new members. Check the Recruitment tab for instructions.
---
Book Drive for the Harris Center
Please support our own Ruth Gotschall and the Harris Center!
"I have had the privilege of working at The Harris Center for the past two years. It is the largest mental health safety-net organization in Texas, and we provide services to individuals from economically disadvantaged backgrounds. Some individuals are there for their first visit and it can be a stressful and anxiety-provoking time.
We have an adult library where clients can read while at the clinic and take a book home. Many clients are experiencing severe isolation. The comfort of a good book provides a welcomed distraction and valuable coping mechanism for dealing with these uncertain times. Children and adults do not have the same access to books at libraries or schools as they did before the pandemic.
I created the children's library nook for children waiting with their parents to engage them and to promote literacy at home. As we know, having books at home is an imperative part of encouraging lifelong readers and predictive of future academic success.
Pi Beta Phi instilled in me the value of targeted and efficacious philanthropy. Building this library is an observed need that I believe will have a ripple effect for families and individuals seeking mental health services in the Houston area. I thank you in advance for your help!"
View the Harris Center Library wish list here.
---
February Virtual Guest Speaker Dr. Miiko Rowley, MD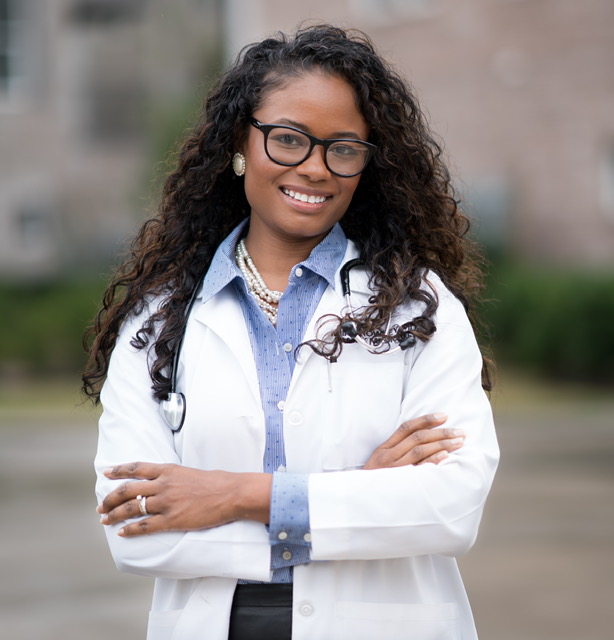 Thank you all who tuned into our first virtual event with functional medicine expert, Miiko Rowley, MD!
Dr. Rowley is a functional medicine doctor and board-certified family medicine physician.
She founded Kale Functional Medicine in Houston, Texas, which merged with The Center for Health and Healing in 2020. At The Center, she continues to help patients by identifying and addressing the root cause of illnesses, such as thyroid disorders, high blood pressure, diabetes, hormone dysfunction, and many others. Correction of root causes utilizing a natural, holistic approach is the fundamental principle of functional medicine.
Dr. Rowley's journey into functional medicine began about one month before starting medical school.
She was diagnosed with MS. That diagnosis inspired her to learn with a different lens. Throughout her medical education, she tried to understand how the body can perform optimally, how to prevent illnesses, and how to address symptoms holistically. Functional medicine helped bring direction to the way she had been approaching her training and her own health.
Now, 13 years since her diagnosis, she has never had any symptoms of MS since the initial episode. This fuels her passion surrounding functional medicine's systems for creating and sustaining health. She empathetically cares for patients, helping determine the root cause for dysfunction and striving for true healing.
View the presentation below.
---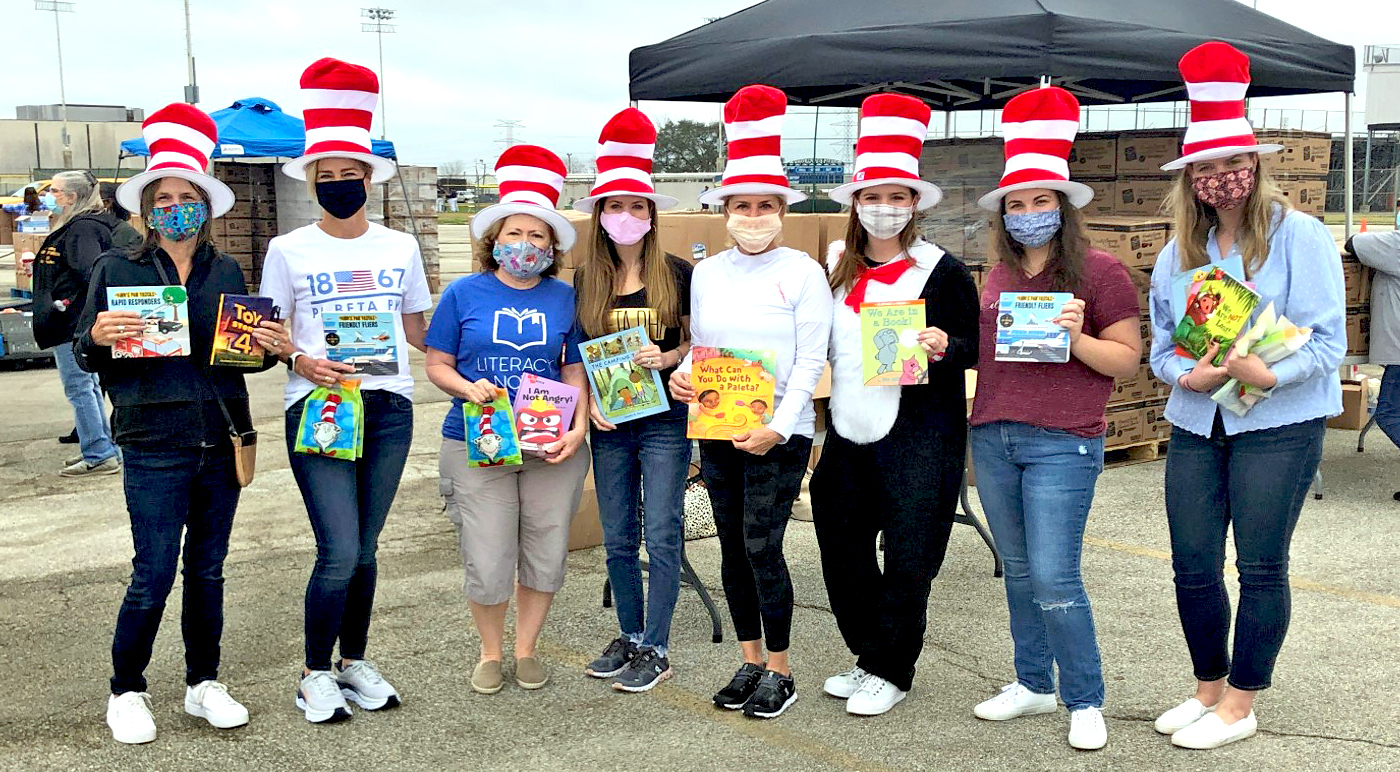 Fraternity Day of Service
Thank you to those who participated in our Fraternity Day of Service in conjunction with the Children's Museum of Houston and an HISD food drive-through on Feb. 27th. We distributed about 400 books and treat bags to those who came for food assistance! Shelby Edmoundson dressed as the Cat in the Hat and brought smiles to everyone!
---
Pi Phi Recruitment Update
Changes to Legacy and Sponsorship Recruitment Practices
Grand Council has been carefully examining Pi Beta Phi's legacy recruitment policies as well as other recruitment-related practices over the last 18 months. With feedback from members and the quickly evolving climate of higher education,
Grand Council has made the decision to revise Fraternity policy and eliminate all courtesy invitations afforded to legacies during the membership recruitment process, effective Fall 2021.
In addition, at this summer's convention, Grand Council will propose legislation which will revise the Constitution and Statutes to remove any reference to special consideration for legacies as well as eliminate sponsorship as a requirement for membership and the process by which alumnae offer recommendations for Potential New Members to chapters. This includes the elimination of the Recruitment Information Form (RIF), the form by which alumnae officer sponsorship and recommendations.
Simply put, a legacy recruitment policy, by nature, is inequitable. The requirement for sponsorship or necessity of an alumnae recommendation creates a barrier to joining Pi Beta Phi. Therefore, these practices are inconsistent with Pi Beta Phi's Commitment to Diversity, Equity, and Inclusion.
Pi Beta Phi values the special lifelong connection a legacy presents. The legacy and legacy relationship will be celebrated through meaningful opportunities. However, celebrating a legacy and favoring a legacy are not the same.
An informative webpage has been developed to share more and answer frequently asked questions. On Tuesday, February 9, the Fraternity's recruitment team hosted a webinar for alumnae specifically addressing this proposed legislation related to recruitment.
Grand Council wishes to assure all members that coming to this decision was not easy and it is not a decision made lightheartedly or in haste.
All members are encouraged to learn more about these decisions.
---
2020-2021 Recuitment
Click here
to see our new recruits.
---

---

---

---
Read the latest issue
of PBP National's
The Arrow
.
---
Pi Phi Events
Get the latest information on all our upcoming events on our calendar. General meetings, board meetings, interest-group events, committee meetings, and foundation happenings--it's all there for you!
Alumnae Membership
If you are new to Houston and would like to learn more about joining our alumnae club, please visit our Join page.
Please pay your dues to join us in our exciting events this year.
Member login
Please log in above to access the members-only sections of the site. Any trouble? Email us.