Welcome to Houston Pi Phi
Since 1921, our Houston Alumnae Club has cultivated and celebrated sisterhood in Pi Beta Phi by promoting fun and friendship. Whether you are a long-time club member, a young alumna, a Houston newcomer, or you are returning to our club after some time away…. there is something for everyone in our Houston club. Please join us!
We are continuing this year with a more inclusive, integrated approach to programming. We invite you to take part and we encourage you to pay your annual dues, if you have not yet done so. Please follow us on Facebook and Instagram (@houstonpiphi) for the most current news, and here for our full calendar of events. Evites will be sent for our events and gatherings, which are organized around three main categories: sisterhood, signature events, and small groups.
Sisterhood events are open to all club members and include daytime luncheons with featured speakers and evening affairs with merriment mixed in.
Signature events honor our most treasured club traditions, and we have several to look forward to this year. In addition, an alumnae club of our size has a variety of interests, talents, and priorities.
Small group events are designed to promote our members' shared interests in smaller group formats. From Bible Study to Book Club, from our Junior Group to our Golden Arrows, we encourage you to consider attending a small group event this fall.
Our hope is that each of you will find a small group within our large club to foster fun and friendships.
We are honored to be serving as your co-presidents for 2019-2020. We encourage you to "follow your arrow" and join us for a year full of sisterhood, sincere friendship, and service to others.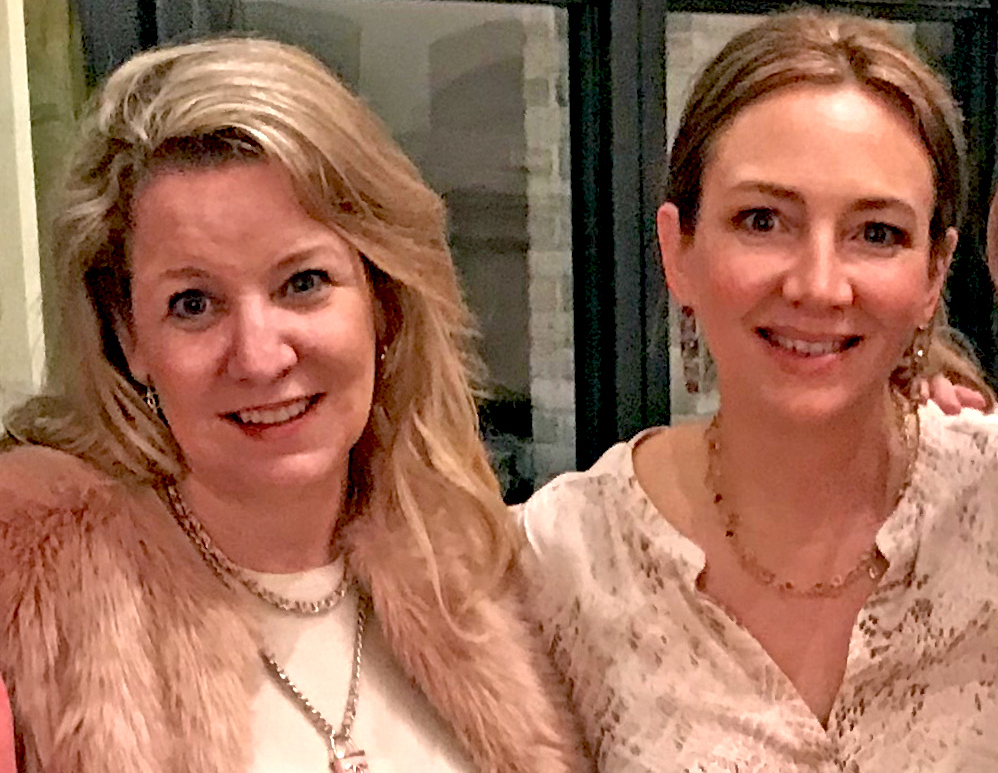 Yours in Pi Phi,
Jennifer Malone Stevenson (TX Alpha)
2019-2020 Co-President

Elizabeth Moore Vail (Texas Beta)
2019-2020 Co-President


Please pay your dues to join us in our exciting events. The new year started July 1, 2019.

---

---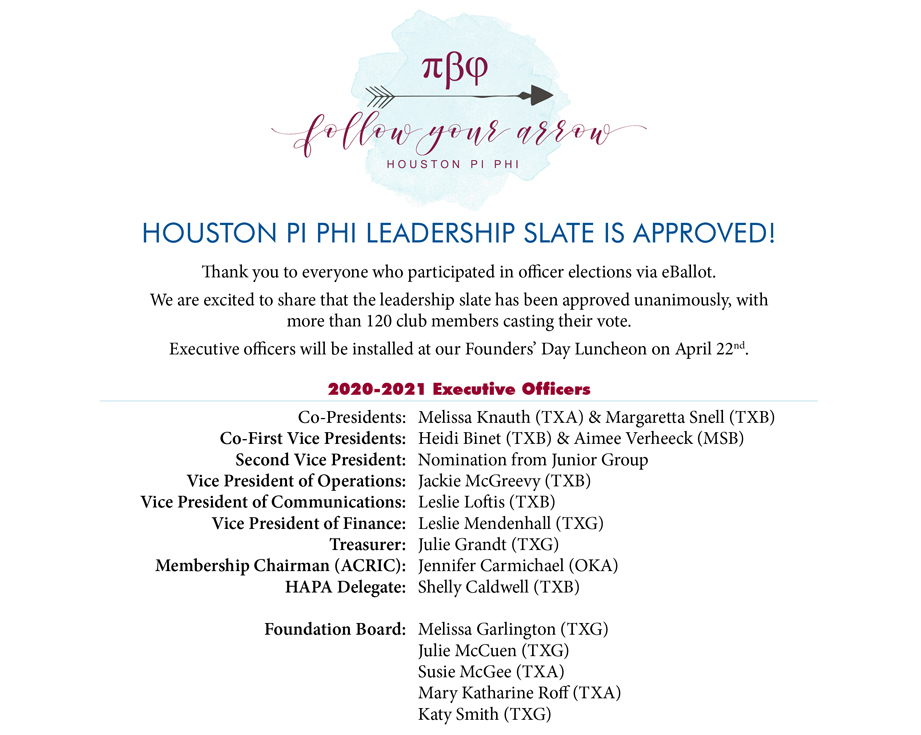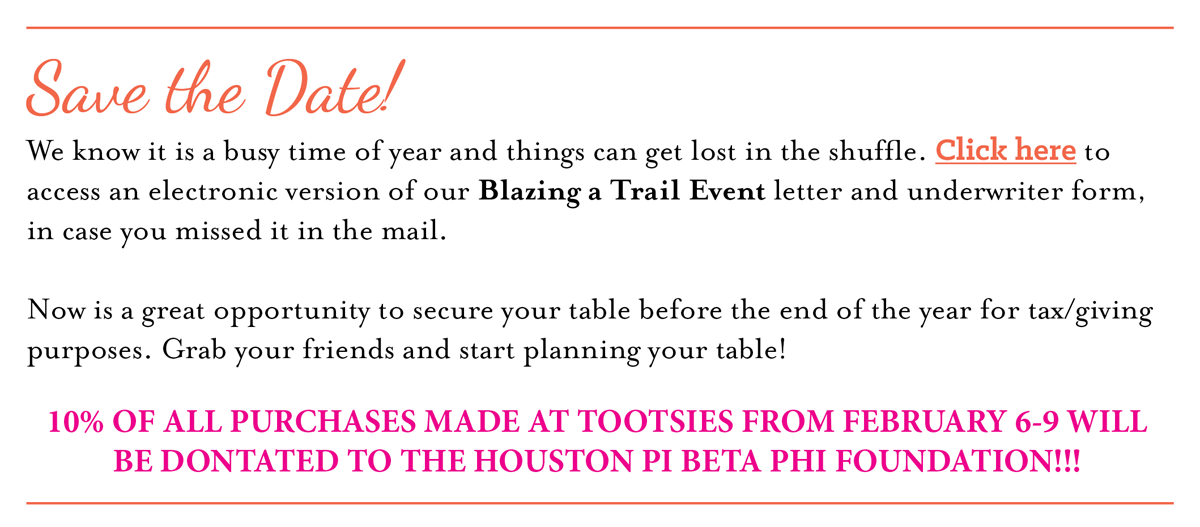 ---

---

The winter 2020 issue of The Archer has arrived!
Click here to download…
---
Calendar of Events
Click here
to view our 2020 Calendar of Events!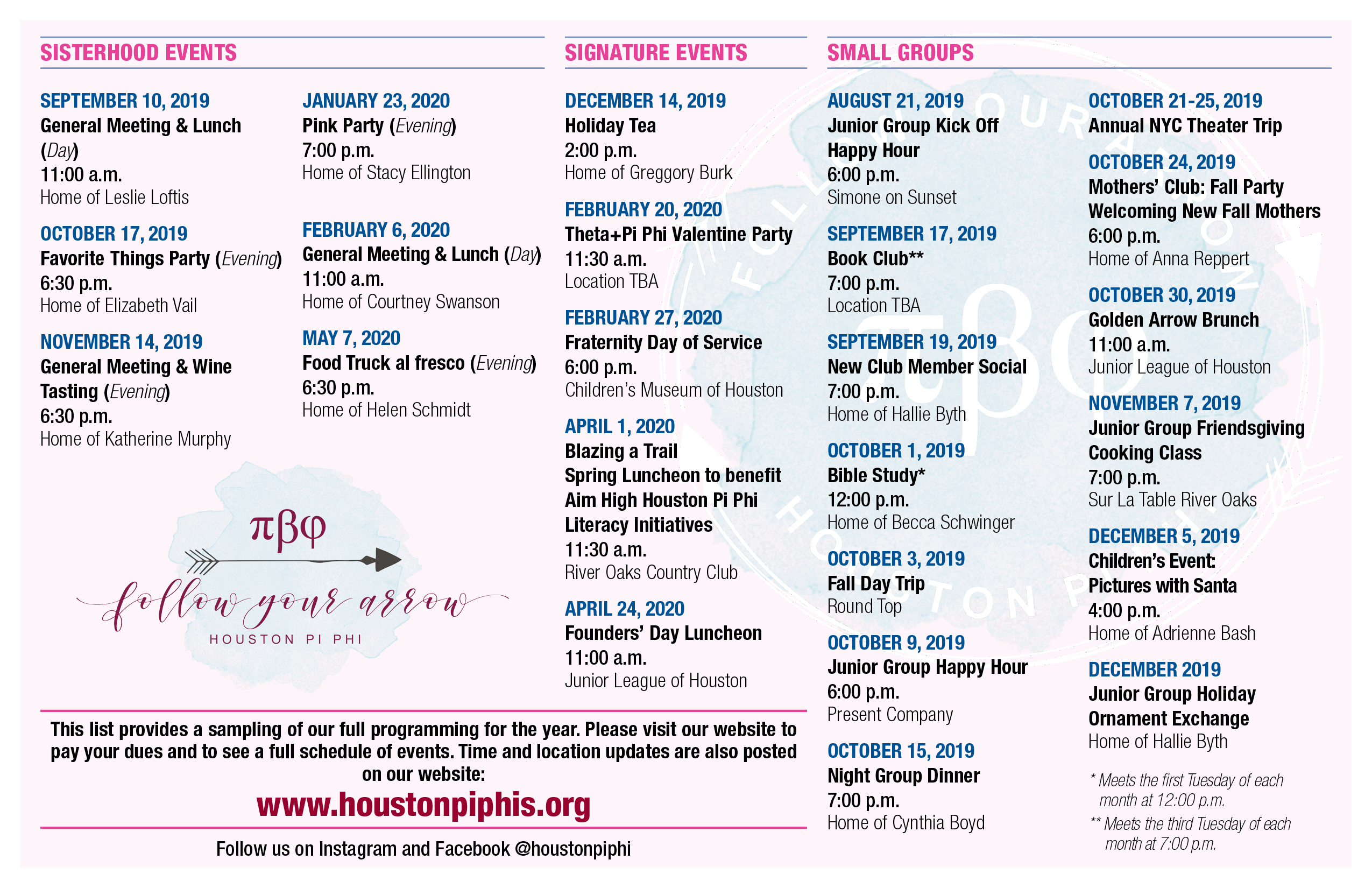 ---
Pi Phi Events
Get the latest information on all our upcoming events on our calendar. General meetings, board meetings, interest-group events, committee meetings, and foundation happenings--it's all there for you!
Alumnae Membership
If you are new to Houston and would like to learn more about joining our alumnae club, please visit our Join page.
Please pay your dues to join us in our exciting events this year.
Member login
Please log in above to access the members-only sections of the site. Any trouble? Email us.