Welcome to Houston Pi Phi
Since 1921, our Houston Alumnae Club has cultivated and celebrated sisterhood in Pi Beta Phi by promoting fun and friendship. Whether you are a long-time club member, a young alumna, a Houston newcomer, or you are returning to our club after some time away…. there is something for everyone in our Houston club. Please join us!
We are continuing this year with a more inclusive, integrated approach to programming. We invite you to take part and we encourage you to pay your annual dues, if you have not yet done so. Please follow us on Facebook and Instagram (@houstonpiphi) for the most current news, and here for our full calendar of events. Evites will be sent for our events and gatherings, which are organized around three main categories: sisterhood, signature events, and small groups.
Sisterhood events are open to all club members and include daytime luncheons with featured speakers and evening affairs with merriment mixed in.
Signature events honor our most treasured club traditions, and we have several to look forward to this year. In addition, an alumnae club of our size has a variety of interests, talents, and priorities.
Small group events are designed to promote our members' shared interests in smaller group formats. From Bible Study to Book Club, from our Junior Group to our Golden Arrows, we encourage you to consider attending a small group event this fall.
Our hope is that each of you will find a small group within our large club to foster fun and friendships.
---
UPDATE: **Together in Pi Phi**
Happy Founders' Day! As we prepare to transition to a new club year, it is hard to absorb all that has transpired over the last six weeks. Everyone has been on such a day-to-day roller coaster. What a crazy way to close out our 2019-2020 alumnae club year!
We would like to extend our sincere appreciation to the Executive Officers and the entire Board for all the hard work that they have put in this year. It could not have happened without you! We would like to especially thank Alicia Stephens and Katy Smith for their mentorship and assistance.
The time at home has given us the opportunity to reflect on what wonderful experiences we have had this past year as Pi Phi sisters, from our wonderful general meetings to our special events – the Wine and Cheese party, the Tootsies style presentation, to the Pink Party and the amazing Holiday Tea. We would like to thank all of the hostesses and especially all of our wonderful and generous home hosts – Leslie Loftis, Hallie Byth, Cynthia Boyd, Anna Reppert, Katherine Murphy, Greggory Burk, Karen King, Becca Schwinger, Stacy Ellington, and Liz Rotan. We would also like to thank Lauren Wood, Helen Schmidt, and Donna Marcum, who had to cancel the events at their homes. You have all been amazing to offer to open up your lovely homes to our group! We are so lucky to have such a giving membership.
We will not end this year on a sad note, but on a feeling of hope, anticipation and excitement for a new club year of companionship and sisterhood. We would like to thank all of our luncheon supporters and especially our "Fab 5" chairs – Jennifer Brown, Allison Croswell, Molly Khalil, Christine Morenz, and Leslie Newcomer – for putting together such an amazing inaugural Blazing the Trail Luncheon. Don't forget to mark your calendars for September 29th! What an incredible day that will be, joining together and celebrating the generosity of our members in support of our deserving literacy philanthropies in Houston.
We are so excited to welcome in our new Co-Presidents, Melissa Knauth and Margaretta Snell. We pass the baton to pair of wonderful leaders who will take on the momentum of the last few years and make our club even stronger and more amazing.
In Pi Phi.
Jennifer Stevenson & Elizabeth Vail
---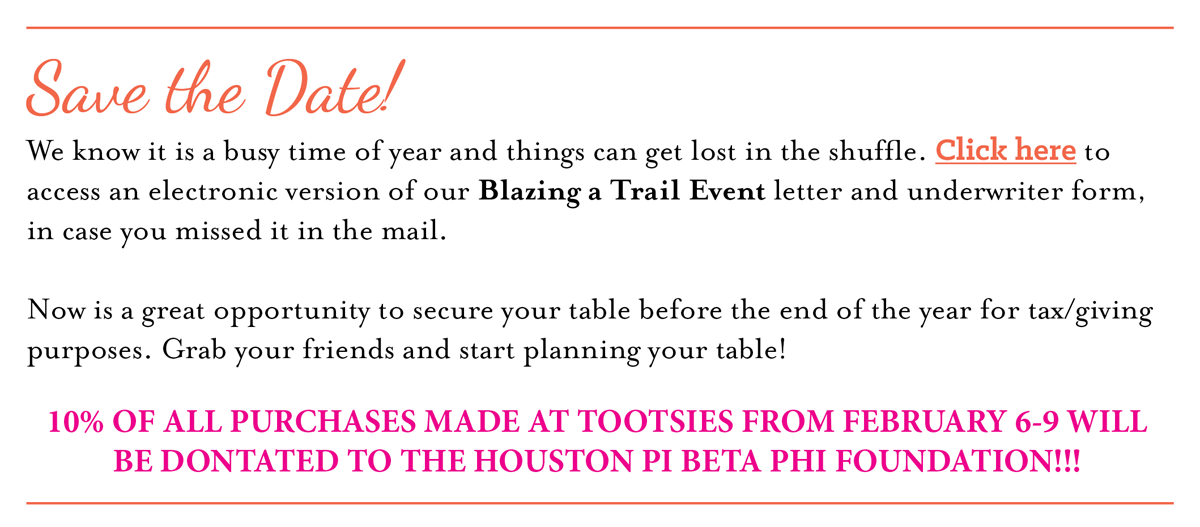 ---

The winter 2020 issue of The Archer has arrived!
Click here to download…
---
Calendar of Events
Click here
to view our 2020 Calendar of Events!
---
Pi Phi Events
Get the latest information on all our upcoming events on our calendar. General meetings, board meetings, interest-group events, committee meetings, and foundation happenings--it's all there for you!
Alumnae Membership
If you are new to Houston and would like to learn more about joining our alumnae club, please visit our Join page.
Please pay your dues to join us in our exciting events this year.
Member login
Please log in above to access the members-only sections of the site. Any trouble? Email us.